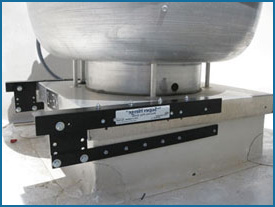 Grease can saturate your roof, leading to safety hazards and costly repairs. We can install a grease containment system that works.
Exhaust fans drain grease daily without a system in place to handle the grease. We also install hinge kits to protect the fan and provide easy access to anyone working on your fan. All up-blast fans are required to have a hinge system so they can be tipped to access the fan and ductwork below. Performing service to the fan without a hinge kit is poor practice, as damage can occur to the fan or duct, and the cleaner could be injured or killed.
Grease containment and hinge kits are required by code.