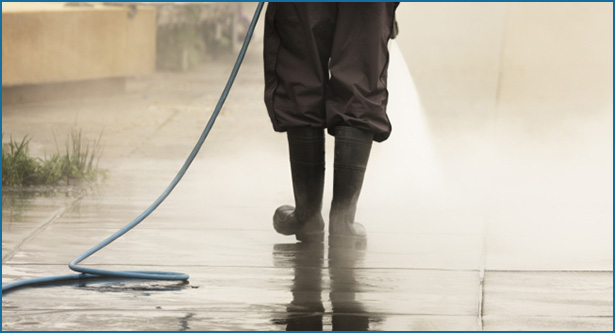 Hot Water Concrete Cleaning
Many businesses are surrounded by many concrete surfaces. For this exact reason it is vital to your company's image that these surfaces are kept clean, safe and inviting. And clean concrete not only looks better to your customers, it also helps prevent costly "slip & fall" lawsuits.        
We know how important it is to make a good first impression and we would love to help you put your best foot forward for your customers. We also enjoy making a business safe and clean for its employees. Our high heat pressure gun will cut through tough, built up grime and leave you with a clean slate. Being family owned and operated we know how important your business is to you and we want to help you run it smoothly.
Concrete Cleaning includes:
• Entrance areas
• Sidewalks and Walkways
• Drive-Thru Lanes
• Dumpster areas
• Parking areas
• Loading Docks
• Chewing Gum Removal & more!
Building Exterior Washing
A beautiful, clean building exterior says a lot about your business! More than just looking good, a well kept building exterior reflects your company's stability, success and a professional image. Let us help you make a good first impression.
Parking Garage Pressure Washing
Parking Garages should be cleaned at least once a year, and in high traffic garages, twice a year. Our commercial cleaning equipment and degreaser removes the buildup of oil and grime in your parking facilities. This not only helps in presenting a cleaner, safer looking business, It also will help in cutting down on the amount of oil and grime that gets tracked into homes and businesses.
Our professional staff is experienced in how to remove stains and debris such as oil, rust, efflorescence, vehicle exhaust, chewing gum, beverage spills, animal excrement and carbon buildup commonly found on many surfaces throughout parking garages. Our staff is trained to clean each surface based on the existing conditions.
Pressure washing a parking garage must be done correctly. The EPA's environmental standards should always be met. Our ability to reclaim water meets the EPA's standards and laws. Parking garages quickly build up accumulations of grease, dirt and carbon deposits. Many other companies do not invest in equipment to ensure a safe work area for all. We have invested in the proper gear to handle your power washing needs while meeting strict EPA Clean Water Act guidelines.