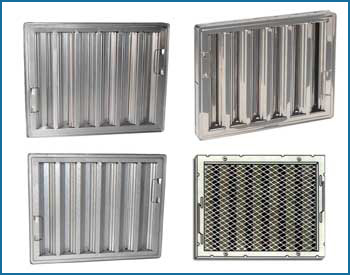 With our professional Filter Exchange Program you'll never have to clean filters or replace worn out or damaged ones. We regularly remove your systems' dirty filters and replace them with clean ones. We'll provide you with two sets, one set we'll clean and another set to install. You never have worry about their condition or replacing them.
Using our Filter Exchange Program your exhaust hood will run more efficiently allowing the fan to draw air evenly across your cooking line. Clean filters will help you save on energy costs. By using our service you'll save by not having to buy harsh chemicals and soaps. You'll also save on staff hours, staff safety and any type of filter repair cost. Replacing the greasy filters you'll have cleaner surfaces, your hood will have more efficient airflow and by removing the grease there's less chance for fire.
Schedule your Filter Exchange when it is convenient for your operation. You decide on the time you want whether it is a 1 week rotation or it is 2, 4 or 8 week rotation we will come in to remove the soiled filter and replace with a clean one.
Also, every time Superior Steam cleans an exhaust system we use our Filter Exchange. No hood filters are cleaned at the business we are servicing in order to control exterior grease run off and also to keep as much grease as possible from entering any interior drains.
Contact us to get more information on our Filter Exchange Program or to setup a Filter Exchange schedule that is convenient for your operation to keep your system running at its peak performance.